Past Notes
Stone walls do not a prison make
Nor iron bars a cage;
Minds innocent and quiet take
That for an hermitage
If I have freedom in my love,
And in my soul am free.
Angels alone that soar above
Enjoy such liberty.
- R Lovelace
---
19 Feb 2008: Hi There,
The court hearing today Feb' 19, was again postponed, because of a small snow here.
We are waiting for the next hearing date soon.
-vmjc
14 Feb 2008: Hi there,
The court hearing is on Tus' Feb' 19. at 12:30, at Salah Adin Street.
-vmjc
7 Jan 2008:
The news: The court hearing today was postponed.
The Israeli Gov' by their prosecutor agreed to change the 6 months prison sentence to community service.

Next the prosecutor will discuss with us which community service I will do.
So all this trial and sentence for the last 3 years comes to nothing.
Wishing you to see me free very soon. -vmjc
Bad news, Dec' 25 th 2007;
The police come to the American Colony to arrest me, I was meeting a young German girl who wanted to meet me and to know more about my story. They took us, the police questioned me, held me until midnight 24:00.

Not so impressive all this again arrest.

I think the police were waiting for my arrest in Bet Lehem, and since I didn't go to B.L. they found new reason to arrest me.

Any way life will continue as I am doing all the Time, vmjc
23 November 2007: from the Campaign Against Sanctions and Military Intervention in Iran:
International Statement for a Middle East free of all Weapons of Mass Destruction (and, Free Mordechai Vanunu)
8 November 2007: The next court hearing has been postponed until January 2008.
26 Sep 2007:
Hi.
The next court hearing, the appeal against 6 months in prison, will be heard on Nov 13 Th in the district court on Salah Adin Street, in Jerusalem.
1 August 2007:

I WANT TO BE FREE.
I WANT TO LEAVE THIS COUNTRY.
21 YEARS IN ISRAEL PRISON IS
ENOUGH.
2 July 2007: Hi .

Here is the court decision, after 2 years of all this trial.
The court sentenced me to 6 months in prison.
We have the right to appeal this decision.
We will appeal in Sep'.

I am still free.
-vmjc
25 June 2007: Hi .

Today the court hearing was about the sentence.
The Judge heard both side's lawyers.
The prosecutor wants Prison time sentence. But it seems he will not get it.
My lawyer want a symbolic punishment.
The Judge will give his decision on July 2. Next Monday.
-vmjc
11 June 2007: from an American supporter -
emphasis by vmjc:
'Meanwhile we hurtle toward a nuclear Armageddon. The nuclear genie cannot be returned into the bottle. The genies' consequences, however, could be controlled if nuclear weapons were abolished. '
14 May 2007:
Hi.
The latest news.
All the restrictions were renewed again for another year.
On May 13th, 2007.
The sentencing regarding talking to foreign media was postponed to June 25th.
So Israel is still under the British mandate.
- vmjc
18 April 2007: HELLO EVERY ONE.
SOMETHING DID HAPPEN.
IN THE PAPERS I RECEIVED YESTERDAY,
THE RENEWAL OF THE RESTRICTIONS WAS ONLY F0R 3 WEEKS, BECAUSE MY LAWYER ASKED THEM TO MEET AND TALK ABOUT THIS ISSUE.
BOTH THE ARMY GENERAL AND THE INTERIOR MINISTER AGREED TO MEET MY LAWYERS.
SO ONLY AFTER THIS MEETING WILL THEY DECIDE IF THEY WILL RENEW THEM.
MAY BE, BOTH MY LAWYERS AND THE AUTHORITIES ARE WAITING TO SEE THE OUTCOME OF THE TRIAL VERDICT - DUE ON APRIL 30.
SO THE RENEWAL WILL BE ON MAY 7-10.
VMJC
13 April 2007: Hello every one,
VERY sorry to report.

The government here decided to renew all the restrictions,
for the 4th time. For one more year, the 4th year.
We will receive the restrictions in next few days.
The verdict about the trial against me for giving media interviews, will be heard on April 30th.

Will write again on any new developments.
-vmjc
12 Feb 2007:
Hi. Latest news. Today I left St Thomas.
They say they need to renovate the guest house. So now I am staying in a dormitory, very cheap Backpackers Hostel in East Jerusalem, until next move. Life must continue, toward total, real, FREEDOM.
-vmjc
3 Feb 2007:
Hi Friends,
On Feb 2 we had the last court hearing in the trial against me, for giving interviews to foreign media. The judge heard Peter Hounam testify about the interview to BBC. Then the prosecuter summed up by asking the judge to find me guilty. My lawyer Feldman brought all the arguments, and asked the judge not to find me guilty.
Peter Hounam will publish his report in the Sunday Times. No one from the media was there. 4 people come to the hearing. So the judge will make his verdict and he will call us later .
Wishing you to meet me free this year 2007,
-vmjc
26 Jan 2007: from VMJC:
Hi Friends.
Latest news.
This Friday I will be in court, maybe the final part, with Peter Hounam, the Sunday Times journalist who was arrested, deported, not allowed to return. Now he has been allowed to come to testify in my trial.
The hearing will be in the Russian compound, at 9:00. Open to everyone.
After this hearing the judge will call us in a few weeks to hear his verdict. Later, on April 21st we will see if I can leave this state prison. I am still in the St Thomas guest house.
24 December 2006:
THANK YOU FOR ALL YOUR SUPPORT.
Wishing YOU A Very Happy Merry Christmas.
A Very Good Year 2007.
All the Best for 2007.
Wishing YOU to SEE ME TOTALLY FREE IN 2007. -VMJC
13 November 2006:
Hi. No court hearings are scheduled, all again postponed. Meir is here, for 2 weeks. -vmjc
8 September 2006:
Hi.
This is the Meir Vanunu report on the court hearing this Sep 6th.
6 September Court Report
The hearing will be continued some time in November.

Also the hearing in my trial of Sep 21st was postponed to October 30th.
Thank you for all your support,
-VMJC
A Free will can Exist, A Free man can Survive.
-VMJC 21.04.2004.
22 August 2006:

Hi,
I have a new address,
P O Box 20102
Herodian Post Office
East Jerusalem 91384
Mobile (972) 052 3744569

Waiting in East Jerusalem to be free to leave,
-vmjc
13 July 2006: Hi,

Here are the lastest dates.
Sep 6th, the Supreme Court hearing appeal against renewal of the restrictions.
Sep 21st, the trial against me will continue, the defense part.
Oct 3rd, the district court in Tel Aviv will begin pre-hearing my appeal against the judge and sentence in the libel suit against Idiot Aharonot newspaper. The court wants me to deposit 15,000 Shekels before the hearing starts.
So any one who wants to come or have anything to say or advise, can come be there.
-vmjc
8 June 2006: Hi,
the trial against me will continue on Sep 21st. The defence part, with Feldman appealing against the renewal of restrictions, will be heard soon. -vmjc
27 April 2006: Hi,
The news is, NO trial court meeting on May 1. The judge will call us later in the month. -vmjc
9 February 2006:
Hi, here is my report.
Court Hearing Jerusalem Thursday February 9th 2006
31 January 2006:
It is very quiet now after the election.
Today is sunny and warm.
Next week I will be in court again.
Was I Useful to Them?
25 January 2006:
Today's Trial
24 January 2006:
Tomorrow I will be in court and I will write how it will go. My view it is about freedom of speech, and in fact Israel democracy will be in the center, and be judged by the court and by the international community.
I hope something will be changed after this trial, and Israel's election in March, with Sharon out of the government.
We will follow the developments here in the next weeks and months.
13 January 2006:
Yesterday I was in court with my lawyers and Meir.
We heard the supreme court decision. The judges rejected my appeal against the restrictions, and keep them as the gov' wants.
Again we are facing no real justice, no real democracy in Israel.
We will meet in the trial on Jan 25.
6 January 2006:
The Gov' lawyers asked the court to postpone the trial from Jan 15 to Jan 25.
So the trial will be held on Jan 25 ; Feb 9; and Feb 12.
The trial will be held at the Russian compound.
We also are expecting the Supreme court decision about the restrictions in the next days.
- VMJC
22 Dec 05:

The police came to me on Monday and gave me a new order by the army general. I am not allowed to go to the occupied territories for 6 months.
They also questioned me about my meeting some foreigners, and writing.
At least they just came to Jerusalem but did not take me by force.
I will not go to Bethlehem for Christmas, no need to be arrested again.
I am trying to celebrate my Christmas here, very quiet, and not real atmosphere of Christmas or any celebrations.
I hope next year will be real freedom and real Christmas.
Wishing all my friends and supporters,
VERY HAPPY CHRISTMAS.
HAPPY NEW YEAR 2006
BEST WISHES.
VMJC
16 Dec 05: Here is another letter to the Interior Minister.
Universal Declaration of Human Rights
To all my friends: you can spread it and send it to the Israel authorities too. Here is a web link with addresses of Israeli officials.
http://www.geocities.com/toi_billboard/gov_addrs.txt
Thank you.
6 Dec 05: from Fredrik Heffermehl:
Norwegian TV documentary airing at NRK tonight
6 Dec 05: from vmjc:
A Reply to Aftenposten of Norway
It was a good surprise to find myself in the restaurant eating dinner while Jimmy Carter came to have his dinner in the American Colony restaurant.
When Carter and his wife were leaving his wife recognised me and I came to say hello.
Carter and his wife say they will be very happy to see me in US.
It was just good to meet a man of peace in this very crazy region, after the trial of yesterday. -vmjc 26 Jan 2006
6 Dec 05: from vmjc:
Freedom of Speech!
21 Nov 05:
"Wanted:
A congressperson or senator,
to support and stand firm and bold with me, in Jerusalem,
demanding my freedom
and criticising Isreal's nuclear weapons,
one who will come here for a press conference,
and then take me with them to the U.S."
-vmjc
21 Nov 05: Hi, here is my report.
Nov 18 Arrest
4 Nov 05: from vmjc:
Toward a World Without Armies
2 Nov 05: from vmjc:
On 9-11
10 Oct 2005: from vmjc:
Banana Republic Israel
Sep 26 05
I had a hearing, about the renewal of restrictions. They heard my lawyer Feldman.
The hearing then heard in secret the security people for 1.5 hours, without me and my lawyer.
Then they said they will give their verdict in the future.
Feldman lawyer spoke very good,
also they gave me back my three lap tops, that they took since last November.
We are waiting for future decisions,
vmjc
September 18 2005 -
NEXT MONDAY SEP' 26, I WILL BE IN THE SUPREME COURT, APPEALING AGAINST RENEWING THE RESTRICTIONS, WITH AVIGDOR FELDMAN AND SFARD.
August 23 2005 -
dear friends.
My new mobile number is 052 3744569.

August 12 2005 - Sending pictures from our gathering at St. George in Jerusalem for Hiroshima Day.
August 5 2005
This poem - Hiroshima 50 years - needs correcting to 60 years.
5 August 2005: from VMJC:
Hiroshima - 50 years
August 4 2005
Hi,
here is the BBC contribution for Hiroshima Day.
I would be most grateful for anyone who has computer skills and will be in Jerusalem to visit with me and who could assist me with my computer. I would also be grateful for a proficient typist who would help me with my many emails and possibly assist in the typing of my emails.
Thank you.
vmjc
July 31 2005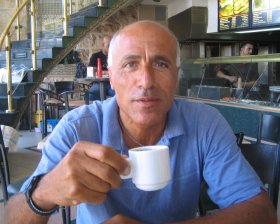 Hi Everybody.
Today I had a court hearing about all the charges against me.
As you know the Israel authorities decided to arrest me and questioned me on Nov 11th for speaking to foreign media, and going to Bethlehem.
Today the trial started.
My lawyer denied all the charges, and the judges we will meet on Jan 15th.
So the court will decide in next year about my freedom of speech.
I also asked them to receive back my computers, they should decide in 2 weeks.
All this is very strange, to be in court again, for me who already had 18 years in prison,
we don't know what they really want to do.
Keep in touch,
vmjc
---
In May 2005, VMJC requested to end the Campaigns. He is out of prison now, and while not entirely free, can act on his own behalf. And he welcomes any support or activity for his total freedom.

He will continue to campaign for a Nuclear Free World.
The former website for the U.S. Campaign to Free Mordechai Vanunu can be found archived here, at www.nonviolence.org/vanunu.
Contact Mr. Vanunu via email:
vanunuvmjc@hotmail.com